Prime Minister Silveria Jacobs says in her dreams St. Maarten is to open back the Dutch island to tourism from mid-June.
During a recent Council of Ministers briefing, PM Jacobs said the timeline would likely coincide with when the island de-escalates to phase four for the opening up of more businesses.
Prime Minister Jacobs said: "I see us reopening Sint Maarten in June. It gives us time between now and the end of May to reach our peak and go back down. That gives us time to slowly but surely open back essential services."
Phase Four of Sint Maarten's Economic Recovery Plan is scheduled to go into effect from June 15, 2020.
PM Jacobs also stated that the return to tourism would also be based on the readiness of the airport and Port with respect to protocols being in place for guidelines on social distancing and hygiene.
She said serology tests would also have to be purchased for the airport and port to test its employees, for taxi drivers and those entering the country so within a day they will be free to roam.
PM Jacobs said: "In my dream I am aiming for mid-June when we are planning to de-escalate to Phase Four and from what our Minister and the airports and port say, this can be feasible. The people are clamouring to come back."
Meanwhile, Minister of Tourism, Economic Affairs Transport and Telecommunications, Ludmila de Weever said the government was originally looking at re-opening in July as it really wants to be prepared. She added that hotel owners and time share owners have been proactive in preparing their establishments to be ready.
Let us keep our fingers crossed!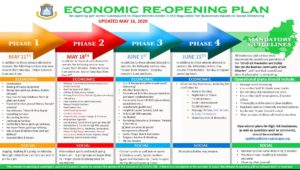 sources: Government of Sint Maarten & Loop News