We had been on Anguilla for a day with a catamaran or the ferry and we liked the island a lot,  but this time we had planned a weekend stay.
Friday afternoon we took the ferry from Marigot over to the neighboring island. The ferries depart from Marigot every 45 minutes between 8:15 and 19:00. Reservations are not necessary. Cost: $ 20 per trip plus $ 5 tax. The journey time approx. 20 min.
Right at the port of Anguilla we were picked up by Kenroy Herbert from Olympus Chauffeur Services. 2 young ladies were waiting for us with damp cloths, so we could freshen up a bit. What a nice surprise! The ride was super relaxed and in the limousine there was fresh water, charging facilities for our mobil devices and WiFi. Kenroy Herbert provided us with plenty of information and material about Anguilla. He wore a dark suit despite 28 degrees in the shade. The vehicle was inside and out shiny and clean and he drove us safely from the port in Blowing Point to Crocus Bay in the cottages of Da'Vida. It was a very pleasant ride!
Once there we were welcomed by Vida Lloyd and led to our accommodation. Vida and her brother David own the complex, which consists of a restaurant with a beachfront lounge, a beach club and 4 apartments. Slightly up the street is Llyod's bed-and-breakfast, but was still rebuilding to Irma when we were there.
The cottages offer a 2 or 3 bedroom accommodation in 2nd row beachfront. When falling asleep, you can hear the sea rippling softly on the beach. All accommodations were very clean and the entire staff very friendly. Every wish was fulfilled and we were taken care of. Every day there was room service and fresh towels. In the units with 2 bedrooms there are also 2 bathrooms en suite. All bathrooms have showers and toilets. The bedrooms are all equipped with air conditioning.
The Bayside Beach Club leaves nothing to be desired: in addition to lunch and lounge chairs, a bar and live music on Sundays, it is possible to rent pedal boats, canoes or paddle boards. Massages on the beach, birthdays, weddings, engagements, etc. can also be arranged here. The sunsets in Crocus Bay are magical and the bay is ideal for families with children, because there is little swell. The water is clear and shallow, the beach powder white. Palm trees offer plenty of shade. The bay next door (on the right) is Little Bay and a nature reserve – can be reached easily by canoe or pedal boat.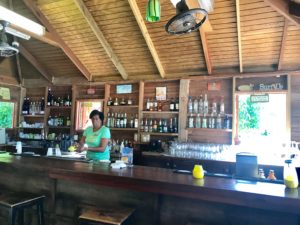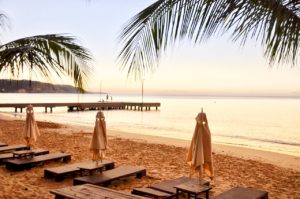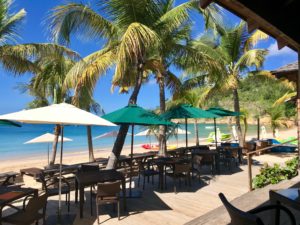 You can spend the whole weekend Crocus Bay property, since you have breakfast is encluded, you can have lunch at the Bayside Beach Club, and evening tapas in the Tamarind Lounge or dinner at the restaurant. The cottages have their own kitchen, refrigerator, stove, microwave, coffee maker, WiFi and TV, so you can even provide yourself. We think, it is  also ideal for families with children.
Bayside Beach Bar & Grill: The cocktails on the beach were awsome, the food was very good and plentiful. My personal highlight was the live act on Sunday: Omari Banks, who played live reggae music . You are right at the beach next to the Caribbean Sea and can spend all day long here. A dream!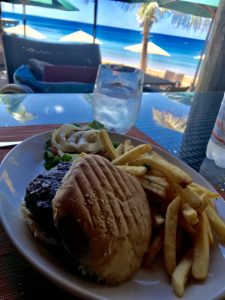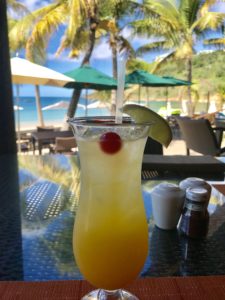 Tamarind Lounge: The lounge is part of the restaurant and also very good cocktails, a good wine list and the Lobster Tapas were the absolute top hit. The sea view at sunset is very romantic.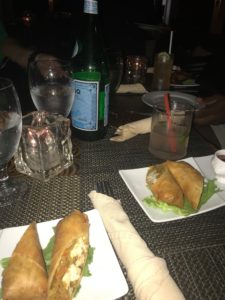 Da 'Vida Restaurant:  We enjoyed a 3 course meal in a super romantic setting by the sea and were very fond of the presentation as well as the innovative cuisine of chef Carlos. He has Caribbean-Asian creations on his menu, all prepared to perfection and tasting very good. The service was very good too. We highly recommend a dinner at the award winning restaurant.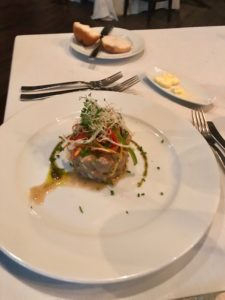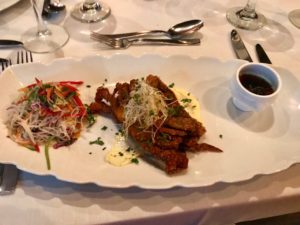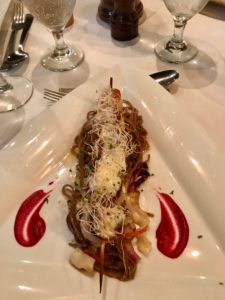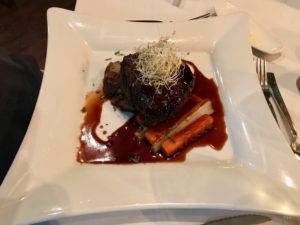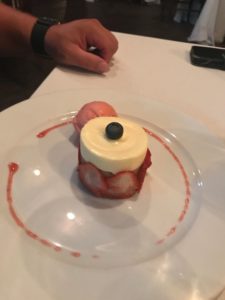 Although you do not need to leave Crocus Bay on a weekend trip to relax and enjoy your time on the beach, we explored the island a bit. In case you want to rent a car, simply turn to Vida, she ensures that you get a rental car brought tot he location (about 50 USD plus 15 USD for a temporary driver's license) or she will call a taxi, which will pick you up for an island tour.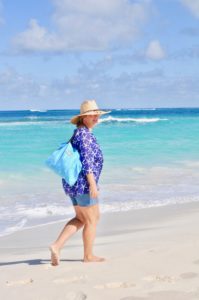 Anguilla is generally slightly more expensive than St. Maarten | St. Martin. This is , because there is a high import duty and the island tends to aim for more luxurious guests. But if you just want to enjoy the beach, the tranquility and the idyll of Anguilla, without spending a small fortune on accommodation, the cottages of Da'Vida are the place for you!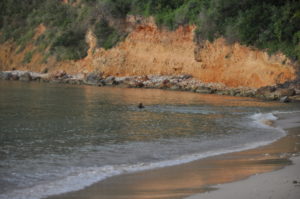 Our wonderful time on Anguilla came to an end and although we would have preferred to stay, the pick-up service of Kenroy Herbert sweetened us the farewell. He chauffeured us safely back to the harbor and gave us a book about Anguilla as we said goodbye. If you are looking for an all-round service for your Anguilla holiday, you will find a reliable and professional contact person in Kenroy. His company LEVITICUS Lifestyle & Travel offers besides the VIP shuttle service also a concierge service, which means he can organize the whole holiday according to your wishes.
Our recommendation: definitely go to Crocus Bay on Sunday to Bayside Da 'Vida!