Fashion designer & adventurer Kim van Loo is the name behind the brand West Indies Wear. Originally from Australia Kim has worked for some big name brands. She has had an interesting life, travelling to South Africa where she worked for Billabong & later sailing to the West Indies onboard a 34 foot sloop where she worked in St. Maarten and later moved back to Australia.
She found my blog and wrote a wonderful blog post about Magic of the Caribbean!
"What amazes me though, is that Magic of the Caribbean has not one single photo of devastation.  Three months after the storm, Angie started posting photos of paradise.  All of her photos feature the stunning bright colors of the islands, and there are only a few re-construction photos.  I love all that POSITIVITY!"
If you want to read her whole blog post about Magic of the Caribbean click here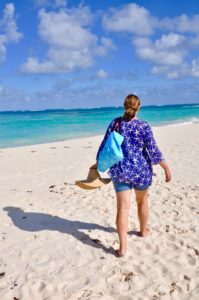 This is me wearing West Indies Wear in Anguilla – the beach bag is also West Indies Wear. Her beautiful range of island style clothing is just the kind of clothes I love to wear through the heat of summer & perfect for summer holidays at the beach. Cool cotton styles in fresh Caribbean colours and prints inspired by the turquoise waters of the West Indies.
Check out her online store!
#onelove