Ultimate Powerboat Eco Tour Around The Island Of St Maarten And St Martin
Join the Ultimate Powerboat Eco Tour Around The Island Of St Maarten And St Martin for a 6 hour excursion on our powerboat to beautiful Caribbean beaches and reefs for some great beach time and snorkeling. We go to Tinatamarre island, Pinel island, Creole Rock, Grand-Case, Long Bay Beach (La Samanna) and Maho beach for plane watching. The tour includes open bar, snacks, lunch , transport and snorkel gear. Book Now!
MON, TUE, WED, THU, FRI, SAT
PICK-UP at all resorts is included. After booking your trip, you will receive a check-in email with pick-up time.
For Cruise Ship Guests: We are only a 15 minute walk from your ship! Simply walk over to our location, Dock Maarten marina.
Tour Description:
The Ultimate Powerboat Eco Tour Around The Island Of St Maarten And St Martin departs from Dock Maarten Marina at 09.30 for a powerboat excursion around the island with stops at 4 beaches and snorkeling at Creole Rock.
You will be hopping aboard our power catamaran called Magic Time. We'll take you on a cruise around the entire island starting with our first highlight of the day, going through Simpson Bay bridge into the lagoon!
You will see many yachts, marinas and luxury villas. We motor from the Dutch side of the lagoon to the French side near Marigot.
Once on the French side, we head straight out to sea via another bridge with our first destination in mind, Tintamarre island.
On the way there, we pass Marigot, Friar's Bay, Happy Bay and Grand Case.
Tintamarre is a beautiful little deserted island that is home to turtles, iguanas and lizards along with the occasional goat.
Once in Tintamarre, you can go snorkeling on the reef and look for turtles or enjoy the beach!
Afterwards, we head over to Pinel Island, known for its very shallow water and abundance of iguanas. Feel free to explore Pinel, check out the beach, go snorkeling, say hi to iguanas and simply enjoy all that the Caribbean has to offer.
We either serve a delicious lunch on board the boat at Pinel island or in Grand Case (Depends on the weather of the day).
After lunch, we go to Creole Rock located just outside the bay of Grand Case. It is a rock surrounded by reef and plenty of sea life.
Grab our snorkel gear and enjoy another very nice snorkeling spot.
After snorkeling, we continue our excursion around the island to Long Bay for another quick swim stop. We may even have a floating bar in the water! You will love it, we certainly do!
We do another quick stop just off Maho Bay Beach where planes land overhead. This is the world famous beach where planes land really close to beachgoers.
After Maho beach, we drop you off back in Philipsburg at Dock Maarten marina at 4 PM sharp.
From there, we either have a shuttle to take you back to your hotel or you can walk only 15 minutes back to the port if you are on a cruise ship.
Join us for an amazing 6 hour powerboat tour around St. Maarten! Open bar, lunch and snorkel gear included.
NOTE: Reverse route may be sailed based on weather conditions.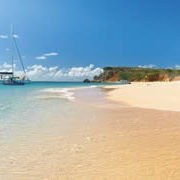 TINTAMARRE ISLAND
Our first stop, Tintamarre island, a beautiful deserted island! Great snorkeling and amazing beach.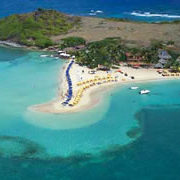 PINEL ISLAND
Pinel Island is another amazing and beautiful location in French St. Martin where we enjoy the beach, go snorkeling and check out iguanas!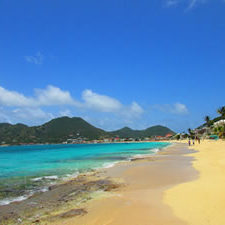 GRAND-CASE
Grand-Case is the gourmet capital of the Caribbean filled with French restaurants, bars and a beautiful beach. We drop of anchor here to have lunch. Swim, beach & lunch, what more could you want?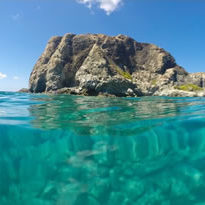 CREOLE ROCK
Creole Rock is an amazing snorkel spot, a rock surrounded by reef on all sides where sea life tends to gather. Our boats can get up close to the rock and from there, it is a quick swim to the reef for some great snorkeling!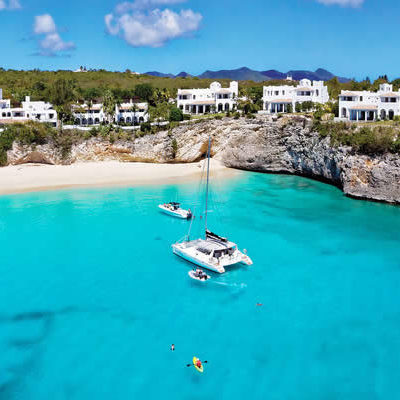 LONG BAY/LA SAMANNA
Our final stop where we drop anchor is in beautiful Long Bay beach as the sun starts to set. We'll pull into a small cove just below the most expensive and luxurious resort on the island, La Samanna. Make sure you grab a noodle and follow our floating bar!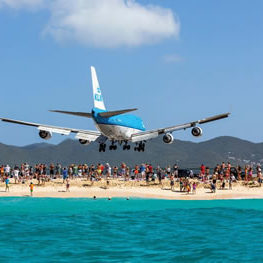 MAHO BEACH
On our way back to port, we'll sail past famous Maho Beach where planes land right above your head! If we're lucky, a jumbo jet may fly over us!
Included:
Pickup and dropoff at all hotels and resorts.
First Class Catamaran with a HIGH Standard of service and equipment
Wide shade area with Comfortable seating
Assistance and instructions for snorkeling
Open Bar all day
Delicious lunch