MAGIC OF THE CARIBBEAN CARD Terms & Conditions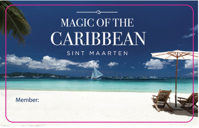 MAGIC OF THE CARIBBEAN CARD (MOTCC) can be used in establishments presented on the selections of our website www.magicofthecaribbean.com. It is valid every day of validity.
The period of validity of the MAGIC OF THE CARIBBEAN CARD is one or two years after purchase date, it is not usable after its date of validity.
MAGIC OF THE CARIBBEAN CARD can be used in restaurants hotels, spas, etc. after having made reservations previously, On the site, the partner will ask to present to him the card, in its absence, you will not be able to benefit from the gratuitousness proposed.
The use of the MAGIC OF THE CARIBBEAN CARD is limited to the holder identified on the card (name + bar code).
All information on the establishments presented on our website are given as an indication. Therefore "Magic of the Caribbean", who verifies the best information, can not incur liability if the institutions have changed their service or the pricing of them. Consequently, we reserve the possibility of modifying at any time the indications brought, in order to update them. As a result, we urge our customers to report any presentation that seems to be wrong.
All links to other websites are inserted for convenience. "Magic of the Caribbean" has no responsibility for these sites and their contents.
Magic oft he Caribbean Card discounts can not be additioned to other discounts.
Each card holder may have up to 5 friends and family in his/her party
All disputes are subject to French law.
Cost for one year is 29 USD per person and 49 USD for 2 years validity. Order via email magicofthecaribbean@gmail.com and pay via Paypal or cash upon arrival at SXM.
Magic of the Caribbean commits to respecting the offer presented on each establishment. In the event that an establishment does not respect the offer presented, Magic of the Caribbean undertakes to intervene within 48 hours with the defaulting establishment; the latter will have to compensate the subscriber for the amount refused. If not, this establishment will be removed from our site.
The warranty period covers the entire period of validity of the subscription.