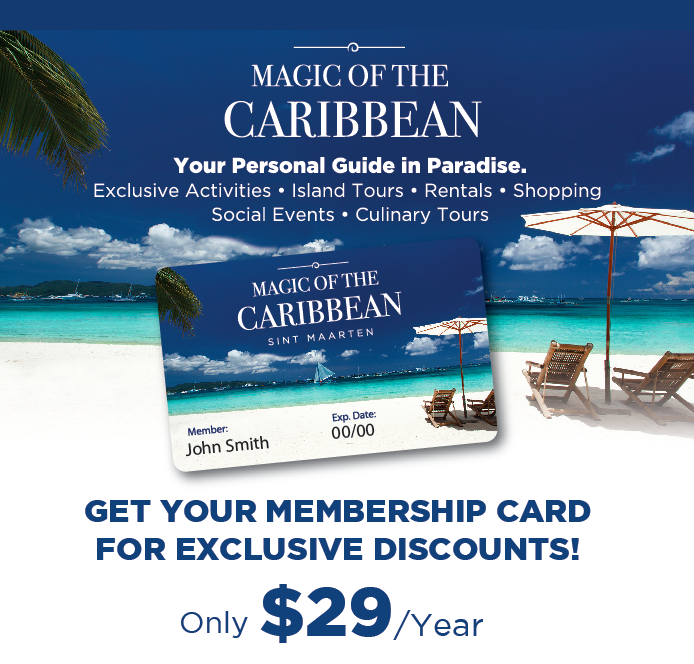 | MAGIC CARD | | LOCATION | | Facebook Link | |
| --- | --- | --- | --- | --- | --- |
| ART & DESIGN | RETAIL | Marigot | 10% | https://www.facebook.com/ArtDesignSXM/ | |
| 3 AMIGOS | RESTAURANT | Maho | 10% | https://www.facebook.com/3amigosSXM/ | |
| A TOUCH OF HANDZ | MASSAGE | | 10% | https://atouchofhandz.com/ | |
| AIRPORT ADVENTURE SXM | EXCURSION | Philipsburg | 10% | https://www.facebook.com/airportadventuresxm/ | |
| ALPHA JEWELRY | JEWELRY | Philipsburg | 10% | https://www.facebook.com/alphajewelssxm | plus a gift for every customer |
| AMSTERDAM CHEESE STORE | RETAIL | Philipsburg | 10% | https://www.facebook.com/ACSSXM2/ | |
| ANDYS CAR RENTAL ANGUILLA | CAR RENTAL | Anguilla | 10% | http://www.andyrentals.com | |
| AQUA MANIA | EXCURSION | Simpson Bay | 10% | | |
| ART BOX GALLERY | RETAIL | Simpson Bay | 10% | https://www.facebook.com/theartboxsxm/ | |
| AZURE HOTEL & ART STUDIO | HOTEL | Simpson Bay | 10% | https://www.facebook.com/theazurehotelandartstudio/ | |
| BALLERINA | JEWELRY | Philipsburg | 10% | https://www.facebook.com/ballerinacaribbean/ | |
| BARRANCO | RESTAURANT | Grand Case | 10% | https://www.facebook.com/barrancograndcase | |
| BE DAZZLED JEWELRY | JEWELRY | Philipsburg | 10% | | |
| BEACH PARTY | CLOTHING | Marigot | 10% | https://www.facebook.com/beachpartysxm/ | |
| BEIRUT SXM | RESTAURANT | Simpson Bay | 10% | https://www.facebook.com/beirut.sxm/ | |
| BIBOVINO | RESTAURANT | Maho | 10% | https://www.facebook.com/lacasadebib/ | |
| BILLABONG SAINT MARTIN | CLOTHING | Marigot | 10% | https://www.facebook.com/Billabong-Saint-Martin-522474784943939/ | |
| BILLY BONES CHARTERS | EXCURSION | | 10% | https://www.facebook.com/billybonesboatcharters/ | |
| BISTRONU SAINT MARTIN | RESTAURANT | Marigot | 10% | https://www.facebook.com/christophegiboz/ | |
| BISTROT CARAIBES | RESTAURANT | Grand Case | 10% | https://www.facebook.com/bistrotcaraibes/ | |
| BODY SPA | SPA | Simpson Bay | 10% | https://www.facebook.com/thebodyspasxm/ | |
| BOOMERANG SXM | EXCURSION | | 10% | https://www.boomerangsxm.com | |
| BUSCO RUM | RETAIL | Grand Case | 10% | https://www.facebook.com/BuscoSaintMartin/ | |
| BUY ST. MAARTEN DUTY FREE | DUTY FREE | Philipsburg | 10% | https://www.facebook.com/buy.sxm/timeline?lst=100010347467906%3A100005224308833%3A1549305764 | |
| CALM UNIQUE SPA | SPA | Simpson Bay | 10% | https://www.facebook.com/calmuniquespasxm/ | |
| CANDY STORE | RETAIL | Philipsburg | 10% | | |
| CAPE CAFE | CAFE | Maho | 10% | https://www.facebook.com/Capecafesxm/ | |
| CAPTAIN SUP | EXCURSION | Grand Case | 10% | https://www.facebook.com/Captain-Sup-857036017964574/ | |
| CARIBBEAN LIQUORS | RETAIL | Philipsburg | 10% | https://www.facebook.com/caribbeanliquorssxm | |
| CAROUSSEL ICE CREAM | CAFE | Simpson Bay | 10% | https://www.facebook.com/BOUTIQUEENVOGUESXM/ | |
| CELINE CHARTER | EXCURSION | | 10% | https://www.facebook.com/CelineChartersSXM/ | |
| CHEZ BUBBA BISTRO | RESTAURANT | SABA | 20% | https://www.facebook.com/ChezBubbaBistro/ | |
| CHEZ GINETTE | RESTAURANT | Marigot | 10% | https://www.facebook.com/chezgigirestaurant/ | |
| COASTAL CONDO | ACCOMANDATION | Oyster Pond | 10% | https://www.facebook.com/pg/thecoastalcondo/photos/?tab=album&album_id=2049194848477762 | |
| COCOLITO | RETAIL | Marigot | 10% | https://www.facebook.com/profile.php?id=100010490671112 | |
| COFFEE LOUNGE | RESTAURANT | Philipsburg | 10% | https://www.facebook.com/sxmcoffeelounge/ | |
| COOCONING | RETAIL | Bellevue | 10% | https://www.facebook.com/cocooningsxm/?epa=SEARCH_BOX | |
| COTTAGES AT DA´VIDA ANGUILLA | ACCOMANDATION | Anguilla / Crocus Bay | 10% | https://www.facebook.com/The-Cottages-at-daVida-264597430849388/ | |
| COTTONCLUB | CLOTHING | Grand Case | 10% | https://www.facebook.com/cottonclub.sxm/ | |
| CURAÇAO DREAMS TRAVEL, TOURS & EVENTS B.V. | EXCURSION | Curaçao | 10% | http://touroncuracao.com/ | |
| Da´Vida RESTAURANT ANGUILLA | RESTAURANT | Anguilla / Crocus Bay | 10% | https://www.facebook.com/daVidaAnguilla/ | |
| DIAMONDS BE DAZZLED | JEWELRY | Philipsburg | 10% | | |
| DIVE SHOP | CLOTHING | Philipsburg | 10% | | |
| DK GEMS INTERNATIONAL | JEWELRY | Philipsburg | 10% | https://www.facebook.com/dkgemsinternational/ | |
| El ZAFIROs HOTEL + Restaurant | HOTEL / RESTAURANT | Beacon Hill | 20% | https://www.elzafirosxm.com | *20% on everything besides Hotel in High Season |
| EN VOGUE | CLOTHING | Simpson Bay | 10% | https://www.facebook.com/BOUTIQUEENVOGUESXM/ | |
| ESCAPE | RESTAURANT | Cupe Coy | 10% | https://www.facebook.com/escaperestaurantsxm/ | *only for dinner |
| ESPERANCE OPTIC | RETAIL | Bellevue/Hope Estate | 10% | https://www.facebook.com/esperance.optic/ | |
| ESQUIRE ELECTRONICS | RETAIL | Marigot | 10% | | |
| EYE CARE OPTICAL SABA | RETAIL | Saba | 10% | https://www.facebook.com/Eye-Care-Optical-Saba-199754633517938/ | |
| FAT TONY´S | RESTAURANT | Cupe Coy | 10% | https://www.facebook.com/FatTonySXM/ | |
| FIT FOODS | RESTAURANT | Philipsburg | 10% | https://www.facebook.com/fitfoodsxm/ | |
| FLY ADDICTION / WATERSPORTS | EXCURSION | Orient Bay | 10% | https://www.facebook.com/flyaddictionparasail/ | |
| FRAGRANCE | RETAIL | Marigot | 10% | https://www.facebook.com/fragrancestoresxm/ | |
| FREEGAN FOOD CAFE | RESTAURANT | Simpson Bay | 15% | https://www.facebook.com/pages/Freegan-Food-Cafe/1957429341217132 | |
| GOOD CARDS & OTHER COOL STUFF | RETAIL | Simpson Bay | 10% | https://www.facebook.com/Goodcardsstmaarten/ | |
| GREAT BAY EXPRESS | FERRY | Philipsburg | 10% | https://www.facebook.com/GreatBayExpress/ | *not on taxes! |
| GUAVABERRY COLOMBIER TRADITION | RETAIL | Marigot | 10% | https://www.facebook.com/colombiertradition | |
| GYM FIT SXM | GYM | Hope Estate | 10% | https://www.facebook.com/gymfit.fr/ | |
| HAIR SALON AMBER | COIFFURE | Nettle Bay | 10% | https://www.facebook.com/Hair-Salon-Amber-585358294877567/ | |
| HOLLAND HOUSE BEACH HOTEL | HOTEL | Philipsburg | 10% | https://www.facebook.com/HollandHouseBeachHotel/ | |
| HOMSAGA | CLOTHING | Marigot | 10% | https://www.facebook.com/homsaga/ | |
| ICON | CLOTHING | Marigot | 10% | https://www.facebook.com/iconsxm/ | |
| IMPULSE SPA CLINIC | SPA | Port de Plaisance Country Club | 10% | https://www.facebook.com/ImpulseSpaClinic/?epa=SEARCH_BOX | |
| INCREDIBLE FITNESS | GYM | Cupe Coy | 10% | https://www.facebook.com/incrediblefitnessandmore/ | |
| INDIGO BEACH RESTAURANT | RESTAURANT | Indigo Bay | 10% | https://www.facebook.com/indigobeachrestaurant/ | |
| INTERTOYS | RETAIL | Simpson Bay | 10% | https://www.facebook.com/intertoyssintmaarten/ | |
| IZI RISTORANTE ITALIANO | RESTAURANT | Simpson Bay | 10% | https://www.facebook.com/IZI.Ristorante.Italiano/ | |
| J.C. BIGUINE HAIR SALON SXM | COIFFURE | Simpson Bay | 10% | https://www.facebook.com/biguinesxm | |
| JET EXTREME ST. MARTIN | EXCURSION | Nettle Bay | 12% | https://www.facebook.com/jetextreme/ | |
| JOGA SXM | GYM / CAFE | Simpson Bay | 10% | https://www.facebook.com/JogaSXM/ | not on clothing or jewelry |
| JOHNNY´S SCOOTER & ATV RENTAL | EXCURSION | Philipsburg | 10% | http://www.johnnysscooterrental.com | |
| KAKAO BEACH * | RESTAURANT | Orient Bay | 10% | | * on food and drinks |
| KING JOUET SAINT MARTIN CARAIBES | RETAIL | Marigot | 10% | https://www.facebook.com/kingjouet971/ | |
| L BOEHME | CLOTHING | Marigot | 10% | https://www.facebook.com/labohemesxm/ | |
| L ESPLANDADE | HOTEL | Grand Case | 10% | https://www.facebook.com/hotellesplanade/ | |
| L´ASTROLABE RESTAURANT | RESTAURANT | Orient Bay | 10% | https://www.facebook.com/astrolabesxm/ | |
| L´ATELIER COIFFURE & COSMETICS | COIFFURE | Marigot | 10% | https://www.facebook.com/ateliercoiffuresxm/ | |
| LA BOHEME | RETAIL | Marigot | 10% | https://www.facebook.com/labohemesxm/ | |
| LA CLASSE CUNUCU | RESTAURANT | Marigot | 10% | https://www.facebook.com/La-Classe-Cunucu-535087000249032/ | |
| LA MER BIJOUX | RETAIL | Marigot | 10% | https://www.facebook.com/heike.bijoux | |
| LA PIERRE MARBLE BEDROOM | RETAIL | Hope Estate | 10% | https://www.facebook.com/Lapierresbedroom/ | |
| La VILLA RESTAURANT | RESTAURANT | Grand Case | 10% | https://www.facebook.com/lavillasxm/ | |
| LA VILLA ROUGE | RESTAURANT | Cul-de-Sac | 10% | https://www.facebook.com/La-villa-rouge-219177535379866/ | |
| LA VOILE BLANCHE | RESTAURANT | Orient Bay | 10% | https://www.facebook.com/lavoileblanchesxm/ | |
| LADY PARIS | RETAIL | Philipsburg | 10% | https://www.facebook.com/Lady-Paris-214865079188641/ | |
| LE 12 KENNEDY | RETAIL | Marigot | 10% | https://www.facebook.com/le12kennedystreet/ | |
| LE BATEAU LAVOIR | RESTAURANT | Marigot | 10% | https://www.facebook.com/bateaulavoirsxm/ | |
| LE COTTAGE | RESTAURANT | Grand Case | 10% | https://www.facebook.com/lecottagesxm/ | |
| LE DOUZE SXM | RESTAURANT | Orient Bay | 10% | https://www.facebook.com/Le-DOUZE-SXM-2147892522108882/ | |
| LE FOURCHETTE | RESTAURANT | Marigot | 10% | https://www.facebook.com/lafourchettesxm | |
| LE PETIT HOTEL | HOTEL | Grand Case | 10% | https://www.facebook.com/lepetithotel/ | |
| LIPSTICK | PARFUMERIE | Hope Estate | 10% | https://www.facebook.com/Lipstick-Hope-Estate-265401837229898/ | |
| LIPSTICK | PARFUMERIE | Philipsburg | 10% | | |
| LIPSTICK | PARFUMERIE | Marigot | 10% | | |
| LITTLE EUROPE | JEWELRY | Philipsburg | 10% | | |
| LONGINES | WATCHES | Philipsburg | 10% | https://www.facebook.com/LonginesBoutiqueStMaarten/ | |
| LOTERIE FARM | NATURE RESERVE | Pic Paradis | 10% | https://www.facebook.com/LoterieFarm/ | *except hiking, food & drinks |
| LOVE SINT MAARTEN | RETAIL | Philipsburg | 10% | https://www.facebook.com/Love-Sint-Maarten-234790420780121/ | |
| MADEMOISELLE | RETAIL | Maho | 15% | https://www.facebook.com/Mademoiselle-337621276950270/ | |
| MAHO PHARMACY | PHARMACY | Maho | 10% | https://www.facebook.com/Mahopharmacy/ | |
| MAMA | RESTAURANT | Cupe Coy | 10% | https://www.facebook.com/MamaPizzasPastasAndMore/ | |
| MAMBO BEACH CLUB | RESTAURANT | Oyster Pond | 10% | https://www.facebook.com/mambobeachclub.restaurant.bar/ | |
| MR. BRANDS | CLOTHING | Simpson Bay | 10% | https://www.facebook.com/mrbrandscollection/ | |
| NICE SXM | RESTAURANT | Grand Case | 10% | https://www.facebook.com/nicesxm/ | |
| NO1 SXM | EXCURSION | | 10% | https://www.facebook.com/no1sxm/ | |
| OCEAN LOUNGE AT HOLLAND HOUSE | RESTAURANT | Philipsburg | 10% | https://www.facebook.com/oceanloungesxm/ | |
| OUALICHI BAR & RESTAURANT | RESTAURANT | Philipsburg | 10% | https://www.facebook.com/Oualichisxm/ | |
| P´S CHEESECAKE BAKERY DELI | RESTAURANT | French Quarter | 10% | https://www.facebook.com/PSCheesecakeBakeryDeIi/ | |
| PAIN DE SUCRE | CLOTHING | Marigot | 10% | | |
| PALAPA GRILL | RESTAURANT | Simpson Bay | 10% | https://www.facebook.com/Rancho-Palapa-Grill-166892003435033/ | |
| PARADISE CAR RENTAL | CAR RENTAL | Simpson Bay | 10% | http://paradisecarrentalsxm.com | |
| PARADISE FOUND | ACCOMANDATION | Simpson Bay | 20% | https://www.facebook.com/ParadiseFoundSt.Maarten/ | |
| PARADISE TOURISM | EXCURSION | Grand Case | 10% | https://www.facebook.com/paradise.tours.10/ | |
| PAROTTE VILLE | EXCURSION | Belvedere | 10% | https://www.facebook.com/parotteville/ | |
| PELICAN PEAK SXM | EXCURSION | Philipsburg | 10% | https://www.facebook.com/PelicanPeakSXM/ | |
| PENHA | DUTY FREE | Simpson Bay | 10% | https://www.facebook.com/JLPenha/ | |
| PENHA | DUTY FREE | Philipsburg | 10% | | |
| PENHA | DUTY FREE | Maho | 10% | | |
| PHARMACIE DE LA LAGUNE* | PARFUMERIE | Nettle Bay | 10% | | *only cosmetics |
| PHARMACIE DU PORT* | PARFUMERIE | Marigot | 10% | | *only cosmetics |
| PHARMACIE HOWELL CENTRE* | PARFUMERIE | Marigot | 10% | https://www.facebook.com/Pharmacie-Howell-Center-1097618050419552/ | *only cosmetics |
| PINEAPPLE PETE RESTAURANT | RESTAURANT | Simpson Bay | 10% | https://www.facebook.com/pineapplepetesxm/ | |
| POLLOS HERMANOS SXM | RESTAURANT | Simpson Bay | 10% | https://www.facebook.com/PollosHermanosSXM/ | |
| POMME CANNELLE | CLOTHING | Marigot | 10% | https://www.facebook.com/profile.php?id=100010297756914 | |
| QUEEN'S GARDENS RESORT & SPA | HOTEL | SABA | 20% | https://www.facebook.com/QueensGardensResort/ | |
| QUICKSILVER SAINT MARTIN | CLOTHING | Hope Estate | 10% | https://www.facebook.com/sxm.quiksilver/ | |
| RAINBOW CAFE | RESTAURANT | Grand Case | 10% | https://www.facebook.com/RainbowSxm/ | |
| RAINFOREST ADVENTURES* | EXCURSION | St. Peters | 10% | https://www.facebook.com/rainforestadventuresxm/ | *on entrance fee |
| RANDOM WIND | EXCURSION | | 20% | https://www.facebook.com/sailsxm/ | |
| REEF-IT SNORKEL PARK | EXCURSION | Philipsburg | 10% | https://www.facebook.com/reef.it.sintmaarten/ | |
| RHINO RIDERS | EXCURSION | Simpson Bay | 10% | https://www.facebook.com/RHINOSXM/ | |
| RIVAL COIFFURE | COIFFURE | Bellevue | 10% | | |
| ROLAND RICHARDSON ART | GALLERY | Marigot | 10% | http://www.rolandrichardson.com | |
| ROXY´S CORNER | RESTAURANT | Simpson Bay | 10% | https://www.facebook.com/roxyscornersxm/ | |
| RUM & PEAS | RESTAURANT | Simpson Bay | 10% | https://www.facebook.com/rumandpeas/ | |
| SALE & PEPE | RESTAURANT | Simpson Bay | 10% | https://www.facebook.com/SALE-PEPE-SXM-536833439816354/ | |
| SAO SXM | RESTAURANT | Orient Bay | 10% | | |
| SAX CAR RENTAL | CAR RENTAL | Simpson Bay | 10% | https://www.facebook.com/Rancho-Palapa-Grill-166892003435033/ | |
| SCOUTS PLACE HOTEL SABA | HOTEL | SABA | 20% | https://www.facebook.com/ScoutsSaba/ | |
| SEA TREK | EXCURSION | Philipsburg | 10% | https://www.facebook.com/Seatrek.St.Maarten/ | |
| SELECT WINE CELLAR | RETAIL | Orange Grove | 10% | https://www.facebook.com/winesxm/ | |
| SEXY FRUITS | RETAIL | Grand Case | 10% | https://www.facebook.com/sexyfruitsgrandcase/ | |
| SEXY FRUITS | RETAIL | Simpson Bay | 10% | https://www.facebook.com/sexyfruitssimpsonbay/ | |
| SEXY FRUITS | RETAIL | Marigot | 10% | https://www.facebook.com/sexyfruitswestindies/ | |
| SIMPLE ELEGANCE SXM | CLOTHING | Grand Case | 10% | https://www.facebook.com/SimpleEleganceSxm/ | |
| SNUBA SXM | DIVING | Philipsburg | 10% | https://www.facebook.com/SnubaSXM/ | |
| SOLEIL BOUTIQUE | CLOTHING | Porto Cupecoy | 20% | | |
| SOLID ATV TOUR | EXCURSION | Pointe Blanche | 10% | https://solidatvtour.com | |
| SPIGA RESTAURANT | RESTAURANT | Grand Case | 10% | https://www.facebook.com/SpigaSXM/ | |
| SPYDER RENTAL | EXCURSION | Philipsburg | 10% | https://www.facebook.com/SxmSpyderRental | |
| ST. MAARTEN 12 METRE REGATTA | EXCURSION | Philipsburg | 10% | https://www.facebook.com/12MetreRegatta | |
| STAR ISLAND TOURS | EXCURSION | | 10% | https://www.facebook.com/Star-Island-Tours-St-Maarten-St-Martin-900035250051942/ | |
| SUNSET CAFÉ | RESTAURANT | Grand Case | 10% | https://www.facebook.com/Sunset-café-restaurant-336275143747747/ | |
| SWING BARTHS | CLOTHING | Porto Cupecoy | 10% | | |
| SXM CRAZY BEACH CHAIRS | RENTAL | Mullet Bay | 20% | https://www.facebook.com/SXM-Crazy-Beach-Chairs-362177477982216/ | |
| SXM MOTO ADDICT | RENTAL | Hope Estate | 10% | https://www.facebook.com/SxM-Moto-AddicT-165775744261944/ | *only on rentals |
| SXMSTMARTINCATAMARANCHARTER | EXCURSION | Philipsburg | 10% | https://www.facebook.com/sxmstmartincatamaranchartersnet-164073293620304/ | |
| TECH HUB* | RETAIL | Philipsburg | 10% | https://www.facebook.com/TechhubSX/ | *except phones |
| TEMPO´S CAFE | CAFE | Marigot | 10% | https://www.facebook.com/temposcafesxm/ | |
| THE FIVE SALON | COIFFURE | SImpson Bay | 10% | https://www.facebook.com/The-Five-Salon-2238577809514423/ | |
| THE FRENCH TOUCH | RESTAURANT | Philipsburg | 10% | https://www.facebook.com/TheFrenchTouchSXM/ | |
| THE SCUBA SHOP ST. MAARTEN* | SCUBA SHOP | Simpson Bay | 10% | https://www.facebook.com/TheScubaShopSXM | *except GoPro |
| TIMELESS SPIRIT* | RETAIL | Marigot | 20% | https://www.facebook.com/Timeless-Spirits-157308488403505/ | on cigars plus a free cutter 10% on all other items |
| TJON* | PARFUMERIE | Grand Case | 10% | https://www.facebook.com/tijonstmartin/ | *exept Parfum Classes |
| TOPPERS RESTAURANT | RESTAURANT | Simpson Bay | 10% | https://www.facebook.com/sxmtoppers/ | |
| TOPPERS RHUM TOUR* | EXCURSION | Cole Bay | 10% | https://www.facebook.com/toppersrhum/ | *only on tour fee |
| VILLA ACROPOLE | ACCOMANDATION | Orient Bay | 10% | www.acropole-stmartin.com | |
| VILLA LE POINT SXM | ACCOMANDATION | Red Pond | 10% | https://www.facebook.com/VillaLePointSXM/ | |
| VILLA ROUGE | RESTAURANT | Cul-de-Sac | 10% | https://www.facebook.com/La-villa-rouge-219177535379866/ | |
| VILLA SERENDIPITY | ACCOMANDATION | Grand Case | 10% | https://www.facebook.com/serendipitysxm/ | |
| VILLA SUZANNE | ACCOMANDATION | Dawn Beach | 10% | https://www.facebook.com/villasuzannesxm/ | |
| VOILA SXM | RETAIL | Grand Case | 10% | https://www.facebook.com/voila.sxm/ | |
| WASABI CHARLIE | RESTAURANT | Simpson Bay | 10% | https://www.facebook.com/wasabicharlie/ | |
| WENDY & JOE FASHION BOUTIQUE | CLOTHING | Philipsburg | 10% | https://www.facebook.com/wendy.boyd.969 | |
| WINAIR* | AIRLINE | Philipsburg | 10% | https://www.fly-winair.sx | |
| ZEE BEST | RESTAURANT | Simpson Bay | 10% | https://www.facebook.com/Zee-Best-Breakfast-Bakeshop-134293249968245/ | |
| | | | | | |
| | | | | | |
| *conditions apply | | | | | |
| | | | | | |
| | | | | | |
| | | | | | |
| | | | | | |
| | | | | | |
| | | | | | |
| | | | | | |
| | | | | | |
| | | | | | |
| *WINAIR 10% 𝑜𝑛 𝑝𝑢𝑏𝑙𝑖𝑠ℎ𝑒𝑑 𝑛𝑜𝑟𝑚𝑎𝑙 𝑓𝑎𝑟𝑒𝑠 (𝑏𝑎𝑠𝑒𝑑 𝑜𝑛 𝑎𝑣𝑎𝑖𝑙𝑎𝑏𝑖𝑙𝑖𝑡𝑦 𝑎𝑛𝑑 𝑛𝑜𝑡 𝑎𝑝𝑝𝑙𝑖𝑐𝑎𝑏𝑙𝑒 𝑜𝑛 𝑝𝑟𝑜𝑚𝑜𝑡𝑖𝑜𝑛𝑎𝑙 𝑎𝑛𝑑 𝑠𝑝𝑒𝑐𝑖𝑎𝑙 𝑓𝑎𝑟𝑒𝑠)  | | | | | |
| 𝑉𝑎𝑙𝑖𝑑 𝑓𝑜𝑟 𝑎𝑙𝑙 𝑊𝑖𝑛𝑎𝑖𝑟 𝑑𝑒𝑠𝑡𝑖𝑛𝑎𝑡𝑖𝑜𝑛𝑠 𝑡ℎ𝑎𝑡 𝑎𝑟𝑒 𝑜𝑝𝑒𝑟𝑎𝑡𝑒𝑑 𝑏𝑦 𝑊𝑖𝑛𝐴𝑖𝑟. 𝐶𝑜𝑑𝑒 𝑠ℎ𝑎𝑟𝑒 𝑓𝑙𝑖𝑔ℎ𝑡𝑠 𝑎𝑟𝑒 𝑒xcluded. | | | | | |
| 𝑉𝑎𝑙𝑖𝑑 𝑓𝑜𝑟 𝑡ℎ𝑒 𝑐𝑎𝑟𝑑ℎ𝑜𝑙𝑑𝑒𝑟 𝑜𝑛𝑙𝑦. 𝑁𝑜𝑡 𝑓𝑜𝑟 𝑓𝑎𝑚𝑖𝑙𝑦 𝑎𝑛𝑑 𝑓𝑟𝑖𝑒𝑛𝑑𝑠! | | | | | |
| 𝑊𝑖𝑛𝐴𝑖𝑟´𝑠 𝐺𝑒𝑛𝑒𝑟𝑎𝑙 𝐶𝑜𝑛𝑑𝑖𝑡𝑖𝑜𝑛𝑠 𝑓𝑜𝑟 𝑐𝑎𝑟𝑟𝑖𝑎𝑔𝑒 𝑜𝑓 𝑝𝑎𝑠𝑠𝑒𝑛𝑔𝑒𝑟𝑠 𝑎𝑛𝑑 𝑏𝑎𝑔𝑔𝑎𝑔𝑒 𝑎𝑝𝑝𝑙𝑦 | | | | | |
| 𝑁𝑜𝑟𝑚𝑎𝑙𝑙𝑦 𝑏𝑜𝑜𝑘𝑒𝑑 𝑠𝑒𝑎𝑡 𝑜𝑛𝑙𝑦. | | | | | |
| 𝑇𝑖𝑐𝑘𝑒𝑡𝑠 𝑎𝑟𝑒 𝑛𝑜𝑡 𝑒𝑛𝑑𝑜𝑟𝑠𝑎𝑏𝑙𝑒 𝑜𝑟 𝑡𝑟𝑎𝑛𝑠𝑓𝑒𝑟𝑎𝑏𝑙𝑒 𝑎𝑛𝑑 𝑎𝑟𝑒 𝑛𝑜𝑛-𝑟𝑒𝑓𝑢𝑛𝑑𝑎𝑏𝑙𝑒. 𝑅𝑒-𝑟𝑜𝑢𝑡𝑖𝑛𝑔 𝑖𝑠 𝑎𝑙𝑙𝑜𝑤𝑒𝑑.  | | | | | |
| | | | | | |
MAGIC OF THE CARIBBEAN CARD Terms & Conditions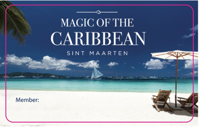 MAGIC OF THE CARIBBEAN CARD (MOTCC) can be used in establishments presented on the selections of our website www.magicofthecaribbean.com. It is valid every day of validity.
The period of validity of the MAGIC OF THE CARIBBEAN CARD is one or two years after purchase date, it is not usable after its date of validity.
MAGIC OF THE CARIBBEAN CARD can be used in restaurants hotels, spas, etc. after having made reservations previously, On the site, the partner will ask to present to him the card, in its absence, you will not be able to benefit from the gratuitousness proposed.
The use of the MAGIC OF THE CARIBBEAN CARD is limited to the holder identified on the card (name + bar code).
All information on the establishments presented on our website are given as an indication. Therefore "Magic of the Caribbean", who verifies the best information, can not incur liability if the institutions have changed their service or the pricing of them. Consequently, we reserve the possibility of modifying at any time the indications brought, in order to update them. As a result, we urge our customers to report any presentation that seems to be wrong.
All links to other websites are inserted for convenience. "Magic of the Caribbean" has no responsibility for these sites and their contents.
Magic oft he Caribbean Card discounts can not be additioned to other discounts.
Each card holder may have up to 5 friends and family in his/her party
All disputes are subject to French law.
Cost for one year is 29 USD per person and 49 USD for 2 years validity. Order via email magicofthecaribbean@gmail.com and pay via Paypal or cash upon arrival at SXM.
Magic of the Caribbean commits to respecting the offer presented on each establishment. In the event that an establishment does not respect the offer presented, Magic of the Caribbean undertakes to intervene within 48 hours with the defaulting establishment; the latter will have to compensate the subscriber for the amount refused. If not, this establishment will be removed from our site.
The warranty period covers the entire period of validity of the subscription.
LES TERMES ET CONDITIONS DE LA CARTE MAGIC CARIBBEAN
La carte MAGIC OF THE CARIBBEAN (MOTCC) peut être utilisée dans les établissements présentés sur le site Web www.magicofthecaribbean.com.Il est valide tous les jours de sa validité.

La durée de validité de la carte MAGIC OF THE CARIBBEAN est d'un ou deux ans après la date d'achat.

Elle n'est pas utilisable après sa date de validité. La carte MOTCC peut être utilisé dans les restaurants, hôtels, spas, etc. Après avoir fait des réservations précédemment sur le site, le partenaire demandera de lui présenter votre carte.En cas d'absence, vous ne serez pas en mesure de bénéficier de la gratuité proposée.

L'utilisation de la carte MAGIC OF THE CARIBBEAN est limitée et réservée uniquement aux détenteurs de la carte ( avec noms ainsi qu'un code barre )

Toutes informations concernant les établissements présentées sur le site ont été donné comme indication.

MAGIC OF THE CARIBBEAN « vérifie les meilleurs renseignements, et ne peut être engagé de responsabilité si les établissements ont changé leur service ou leur prix.

Par conséquent, nous nous réservons la possibilité de modifier à tout moment les indications apportées, afin de les mettre à jour en temps et en heure.Pour conclure, Nous exhortons nos clients à signaler toute présentation qui semble erronée.

Tous les liens vers d'autres sites Web ont été insérés pour permettre plus de commodité. Magic of the Caribbean n'a aucune responsabilité pour ces sites et leur contenu

Les remises de la Magic of the Caribbean Remises ne peuvent être additionnées à d'autres remises. Chaque détendeur de carte peut compter jusqu´ à cinq amis et membres de sa familile dans son parti.

Tous les litiges sont soumis au droit français

Le coût d'an est de 29 USD par personne et de 49 USD pour deux ans de validité. Veuillez passer commande via magicofthecaribbean@gmail.com et payer via Paypal ou cash une fois les pieds à St. Martin.

MAGIC OF THE CARIBBEAN s'engage à respecter l'offre présentée pour chaque établissement. Dans le cas où l'établissement ne respecte pas l'offre présentée, Magic of the Caribbean s'engage à intervenir dans les 48 heures avec l'établissement concerné.
Ce dernier devra dédommager l'abonné pour le montant refusé. Si ce n'est pas le cas, cet établissement sera retiré de notre site. La période de garantie couvre toute la durée de validité de l'abonnement